Lake Norman Dock Materials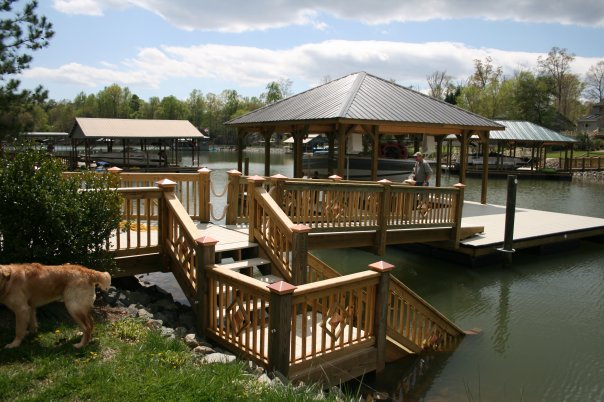 Wood, Composite, PVC or Ipe Dock Materials
The materials we use to build a new dock creates quite a difficult decision for some Lake Norman homeowners; factors include;
Cost
Maintenance
Aesthetics
Durability
Cost is always a factor, but the lesser quality decking can quickly create maintenance issues which greatly increase the cost of your dock, I prefer the synthetic materials or the "Top of the Line" Ipe (pronounced e-pay) which is a natural product.  Here are the 4 main types of materials we use (including vinyl for railing, metal roofing, copper and such…)
Pressure Treated Wood
Pressure treated wood is the norm, simply because of cost and it looks and feel like real wood (because it is real) for the first few seasons.  We always use pressure treated wood for the pilings (poles) and structure, those are seriously big boards.  The deck boards look good for several years, and then the maintenance begins.  Deck boards and railings start to warp, split and need to be sanded and treated again; this quickly diminishes the quality and fun time on your dock.  For those that are not the "Handyman" type, hiring this work out may be an episode and if not done correctly, issues will repeat more often than not.
Composite Decking
This is the preferred material for docks, decks and walkways around the lake.  The maintenance free man-made synthetic boards never need painting, do not warp, resist cracking, splintering, rotting, mold and fungus.  Composite docks are also very child friendly!  No more splinters or chemicals and they resist heat, so on those hot summer days, it's still comfortable on your dock.  The color choices are numerous, so matching your home is not an issue and the color never fades.  Composite boards are made from recycled wood fibers and recycled plastic; no trees were cut down to make these boards, so you will be promoting a healthy, green environment.
PVC Decking
PVC decking often get confused with composite decks, from the layperson it's easy to see why as the look and feel are very similar.  PVC is more expensive than its composite counterpart and measurably stronger.  It excels at many of the qualities and resistance characteristics that a synthetic product provides.
PVC is:
Scratch resistance
Stain resistance
Strongest man-made decking
Engineered to withstand heavy deck usage
Insect resistant
No fade colors
Ipe Decking
Ipe is by far the best material to build a new dock, but the cost is too extravagant for the average Lake Norman homeowner, but if you want the best, this is it!  Imported from Brazil, Ipe all natural wood decking is the only natural decking material rated for over 35 years maintenance free service.  Ipe is sometimes referred to as Ironwood, due to the immense density, which also makes it insect resistant and hard to install.  Ipe is completely maintenance free, the grain of this wood very tight, so much so that it's naturally waterproof.  The downside to Ipe is that very few contractors are experienced working with it.  Special tools are needed to cut and penetrate thru Ipe.  Not only is it more expensive to purchase, it's also cost more to install.
I welcome your calls for all Lake Norman Dock Repairs!
Barry Sims, Owner