Lake Norman Beamless Boat Lifts
Boat Lifts: Protect your boat from the elements with a quality boat lift installation from Lake Norman Docks.
Hurricane Boat Lifts
The quality of a boat lift is comprised exclusively by the materials it is made of; Hurricane Boat Lifts are manufactured from the highest grade marine aluminum available.  Every boat lift is design for appearance, durability and ease of use.  Hurricane Boat Lifts offer warranties that are unequaled in the boat lift industry.
Elite Beamless Boat Lift features open sides allowing easy access to your boat.  If you worry about looking at a top beam or hitting your head, look no more. Remote control included!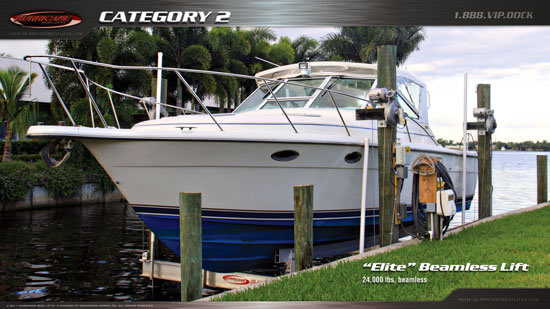 STANDARD FEATURES:
Wireless remote control
Aluminum Bunks (wood bunks on 24K and up)
AMS E-gears
Smoke Plexi Cable Shield
Stainless steel motors
Marine grade aluminum & stainless steel construction
Adjustable cable keepers to help prevent "cable spooling"
OPTIONS:
Limit Switch
Patented Lift Lock
UHS Gears
UHS2x High Speed Gears
Wood Bunks
WARRANTY:
15 Year Structural
5 Year Gear Box
2 Year Motor
2 Year Comprehensive
CAPACITIES:
9,000 lbs.
12,000 lbs.
16,000 lbs.
20,000 lbs.
24,000 lbs.
30,000 lbs.
I recommend Hurricane Boat Lifts: Quality, Beauty & Easy to Use!
Barry Sims, Owner